More beautiful Hiccup and Toothless fanart? Sure!
In the coming days and weeks, I'll not only be uploading and sorting into themes my favorite older fanart, but will also be selecting brand new favourite fanart as it gets sent to me and released.
If you have some of your own favorite fanart you'd like to see posted here – old or new – by all means send it my way! If it becomes one of my faves, I'll post it on the blog. You can also sign up and post your own art to our "Creative Wall" on the forum. (You must be signed in to see it.)
Let's begin this blog post with a more mature-looking Hiccup, sporting some manly Viking stubble. The next painting, will show Hiccup when he was just a boy, first discovering Toothless.
---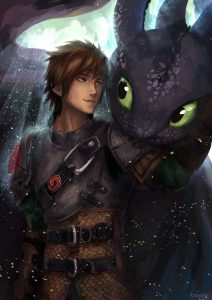 Click on a picture to see it pop up in a "lightbox". Pictures are posted in no particular order.
(Featured image: Hiccup and Toothless by ElinTan)
Well, Hiccup and Toothless really do look inseparable in this painting. Not in an overly-emotional way, but in a profound way based on years of shared friendship, familiarity and trust in each other.
While not painted with detail, Toothless spreading out his wings behind Hiccup and casting a shadow over him, with the rays of light filtering through above them, is a nice touch.
This could be a situation, that might at first appear threatening to anyone who doesn't know about the close friendship between the Berkians and the dragons – especially considering the fierce reputation and power of the Night Fury dragon(s).
However, then one sees that Hiccup is reaching out to Toothless, and they're both making a connection not only with touch, but also with their eyes and emotions. Very nice.

---
Story – by Iya_Chen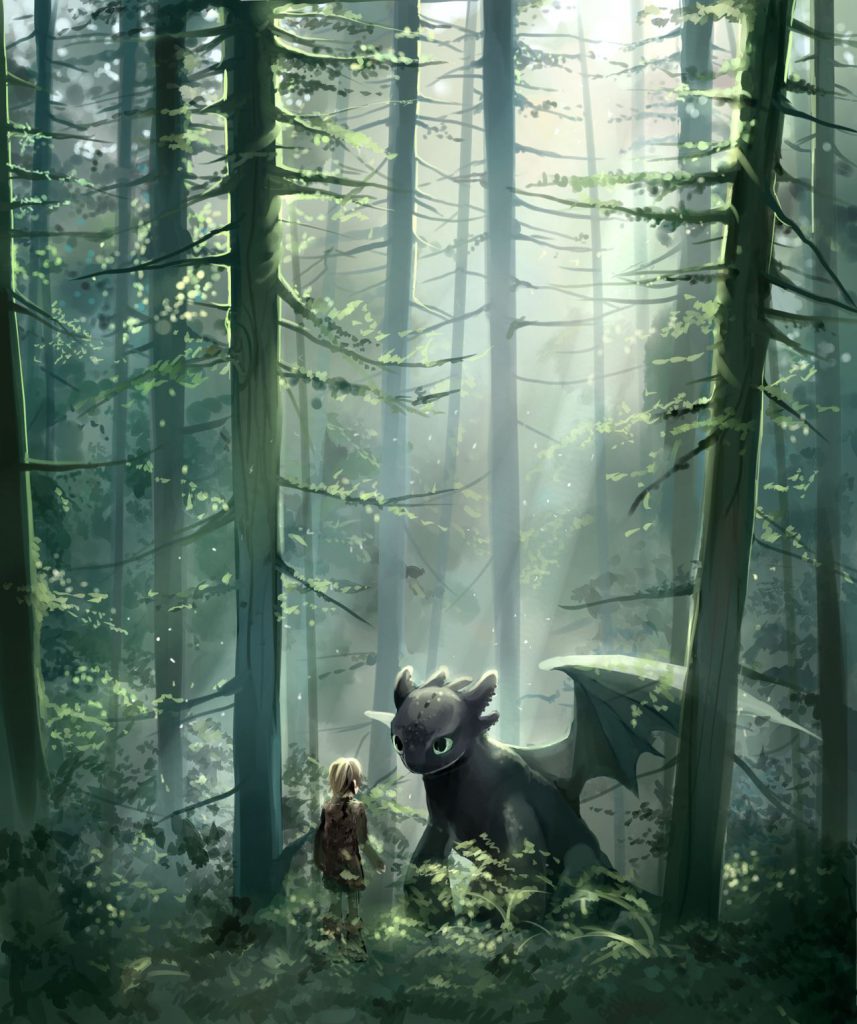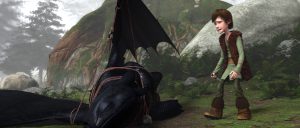 Could this be showing the moment Hiccup first met Toothless, if Hiccup hadn't shot him down?
The way the artist has posed the characters, the body language, makes this look like a kind of "first meeting" moment rather than a "friends meeting again" moment. Both are a little uncertain, tense and keeping a close eye on each other, but not hiding or showing animosity.
One can tell that Toothless is also young, like Hiccup, thanks to his softer and more rounded facial features. The light is really beautiful.
Their first meeting could have started out like in the painting, and the story still worked if handled skilfully, I feel.
In the first movie, Hiccup wounding Toothless and feeling remorse made the story easier to explain, but DreamWorks managed to tell that version of the story without its quality being reduced. Something being "easier" can very quickly mean "lower quality".
Perhaps "simpler" is the correct word. There's often great complexity and hard work, behind something simple.
---
Mythic Beasts – by JackTheVulture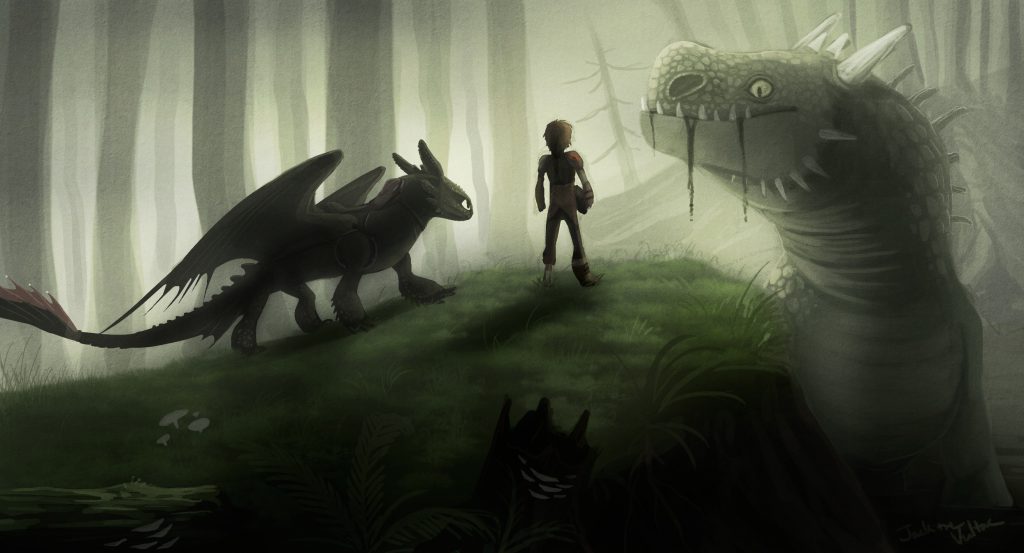 At first, young Hiccup explored the positives of the world outside the various borders and limitations of his life, on his own. Now together with his best friend Toothless, who he would never have met otherwise, Hiccup continues (along with his human friends and Dragon Riders) to make new and amazing discoveries.
Idealistic, and very nice!
---
Toothless and Hiccup – by Scyao
Hah! I like how the helmet that Hiccup made for Toothless, has his forehead spines. Why is Toothless so grumpy about the idea of wearing a Viking helmet? Twins often wear matching outfits!

---
Toothless and Hiccup – by Sanoe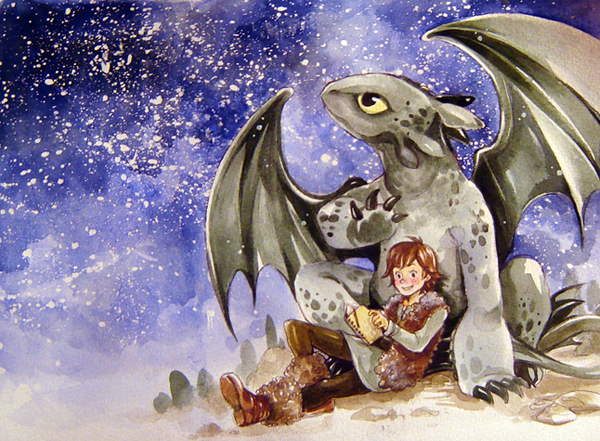 A lovely painting, that would look great in a top-quality children's story book! Hiccup is completely trusting of his best friend Toothless, and out at night (in the dangerous Viking world), protected and without a care.
Or is this a double day/night picture? Hiccup in the daytime, and Toothless, the night-dragon looking up into the home he knows best, protecting Hiccup from the dangers that both worlds – day and night – can bring?
Hiccup has with his actions, also protected Toothless from the dangers of the human world. They are a team.
---
One Hour Drawing – by Umintsu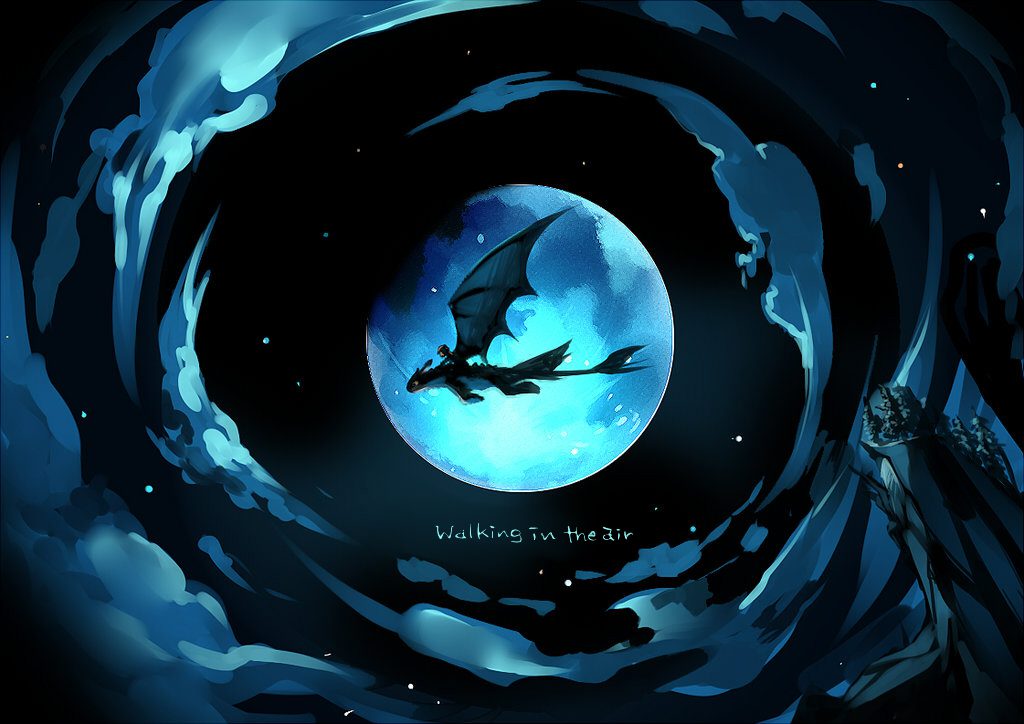 What a dramatic, standout scene – and all that without big explosions or loud and bombastic colours and poses. A painting that speaks volumes about the story and friendship between young Viking and dragon, seemingly without any effort at all.
---
Toothless and Hiccup – by AeRettberg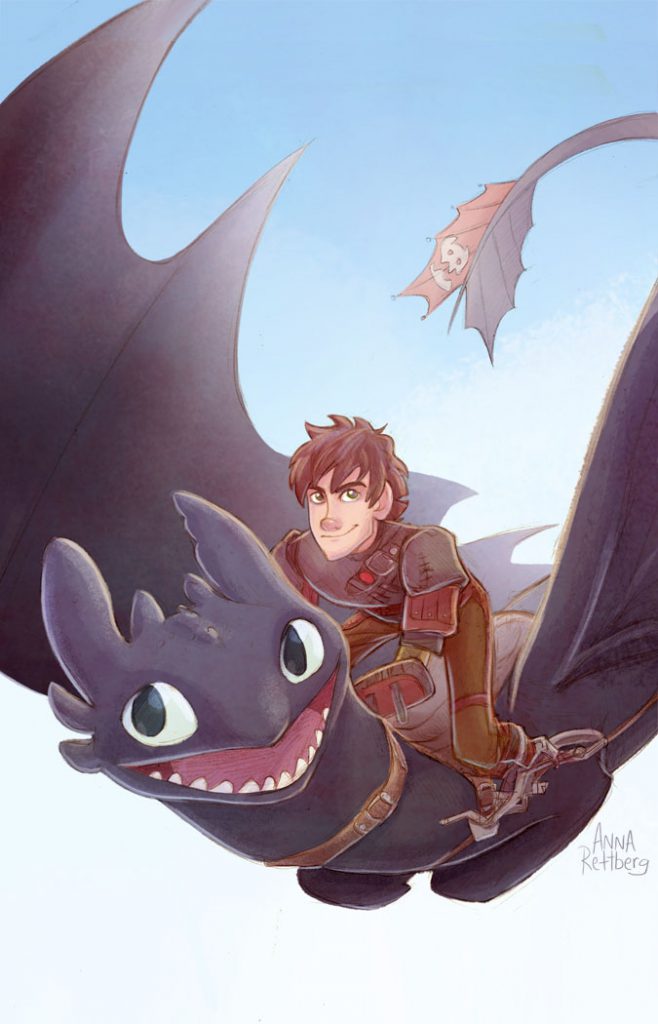 A fun and cartoony drawing of Hiccup and Toothless, full of youthful cheekiness and excitement. Very nice!
---
Do you trust me, buddy? – by Athena-Erocith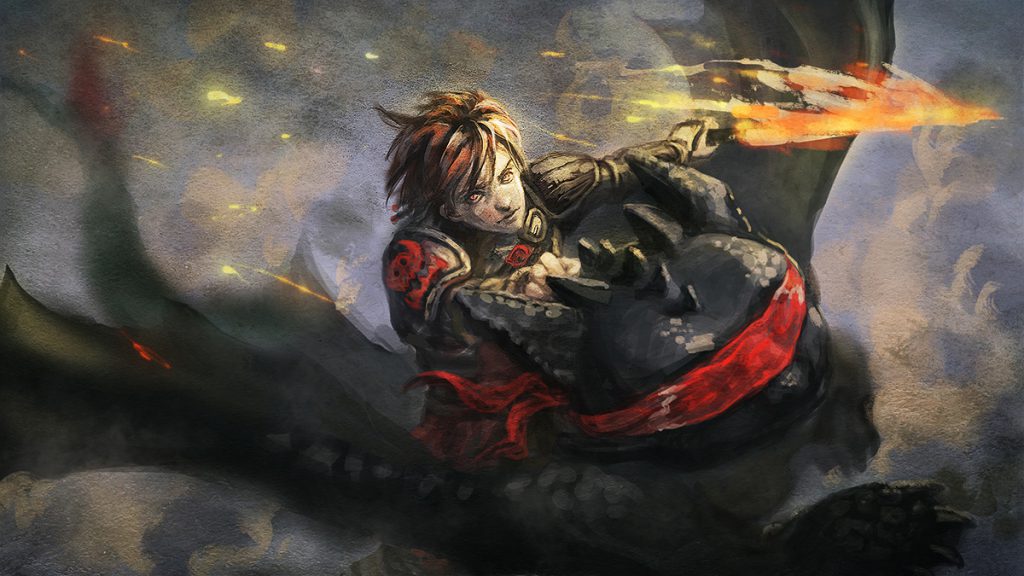 A painting from a major scene in HTTYD2, where the shared purpose, bond and trust between two friends, helped them find the strength to exceed their own limitations and win against an incredibly powerful and destructive enemy.
---
My Best Friend – by LivingAliveCreator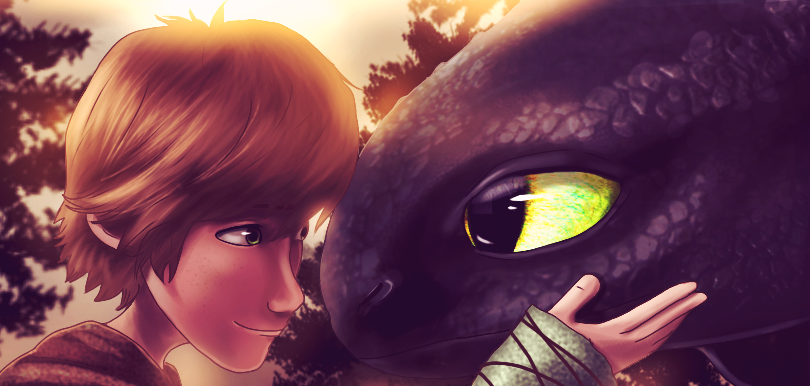 Nice drawing! Every piece of Hiccup and Toothless fanart in this blog post, shows in some way or extent that these two are best friends – it's a nice theme, and this drawing conveys it well.
---
I'll Do Better – by JackTheVulture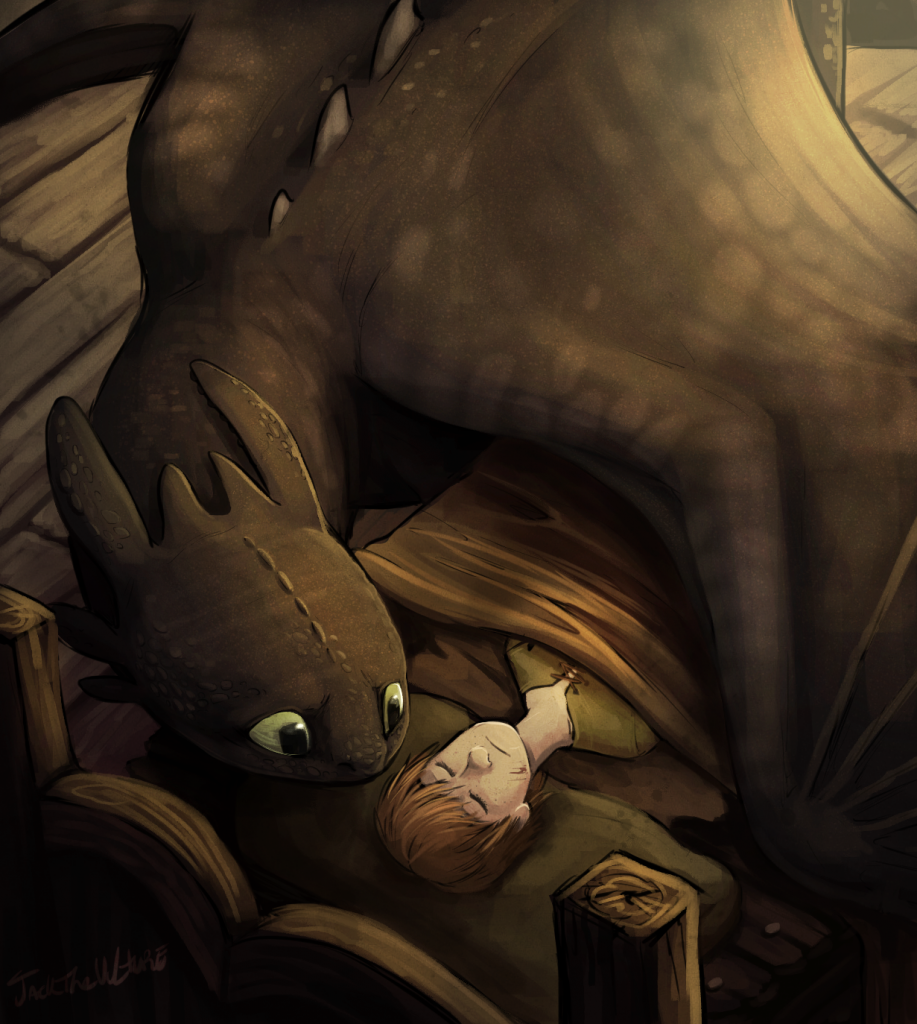 Toothless wishing he could have done more to protect his friend. Hiccup was unconscious for quite a long time, after their battle with the Red Death dragon in the first movie. This moment could very well have been part of the story.
Reminds me of the true stories I've read about and seen, of dogs looking after their masters who were sick or injured.
One story I often think about, was when an old man laid paralysed by a stroke in bed, for 9 days. He was unable to move, but could still speak. He begged his loyal dog to bring water to him, so she draped a towel in her water bowl and brought it to his face, for him to suck the moisture from it.
When her bowl's water ran out, she hung the towel into the toilet to bring her master more fluid.
I read about this story, and saw an interview with the man on TV, but that was a long time ago. If I remember correctly, when the poor man was finally rescued and brought to hospital, his loyal dog even ran after him to the hospital and waited beneath his room's window.
A very moving story in my opinion, and it reminds me of what my family and I have witnessed over the years with our own dogs. We were never in a life-or-death situation like that, but witnessed many moments that made us realise just how profoundly intelligent and understanding our best friends can be.
The man's name was Jack Fyfe, and his dog's name was Trixie. You can read about the story a little more here: https://www.orlandosentinel.com/news/os-xpm-1992-05-29-9205290229-story.html
and here:
http://www.kalonanews.com/opinion/wonder-questions-and-dog-stories/article_05d0c366-ca29-11e7-b2a5-d3297c83d041.html
It's no secret that DreamWorks Animation cleverly integrated into their dragons, qualities and behaviours of animals that humans are familiar or commonly friends with.
The friendship that Hiccup and Toothless had in the HTTYD story, was in many ways a reflection of the friendship that hundreds of millions of people have with their pets/animal family members, all over the world.
It's nice to be positively distracted by fairytales like HTTYD, but they are based on the real-live events that are around us each day.
One doesn't need to look towards fiction, to find beauty and wonder.
---
Cuddle Time – by Nayro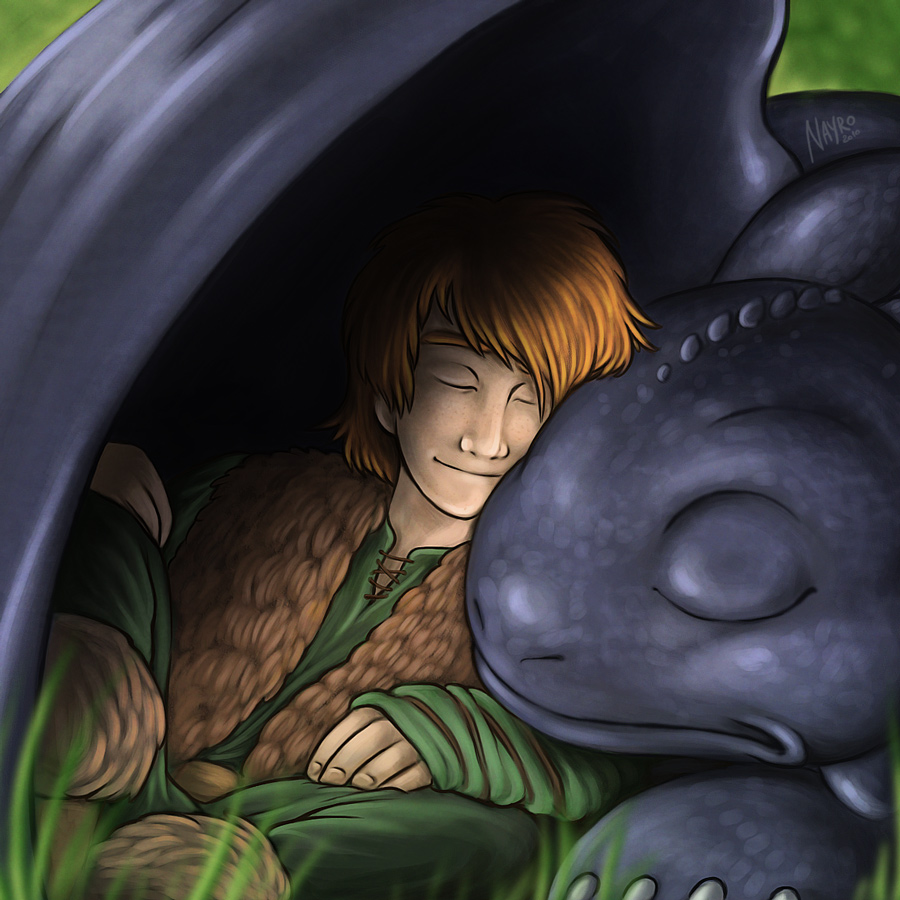 Aww, what a cute scene. Best buds cuddled up and having a nap. I also like how Toothless is using his wing for extra shelter over Hiccup.
---
Forbidden Friendship – by Limey404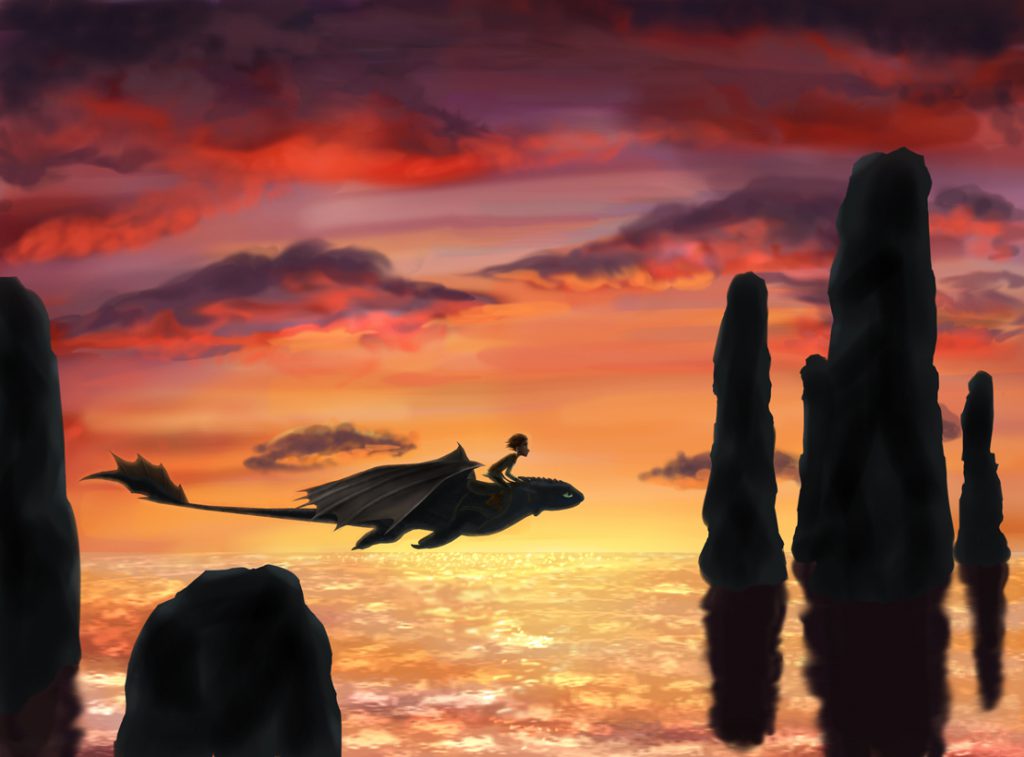 Not only a beautiful and impressive scene and painting, but also fanart that goes well with the words "We Have Dragons", so therefore I've chosen it as one of the headers for this fansite.
---
Let's Fly – by Draiad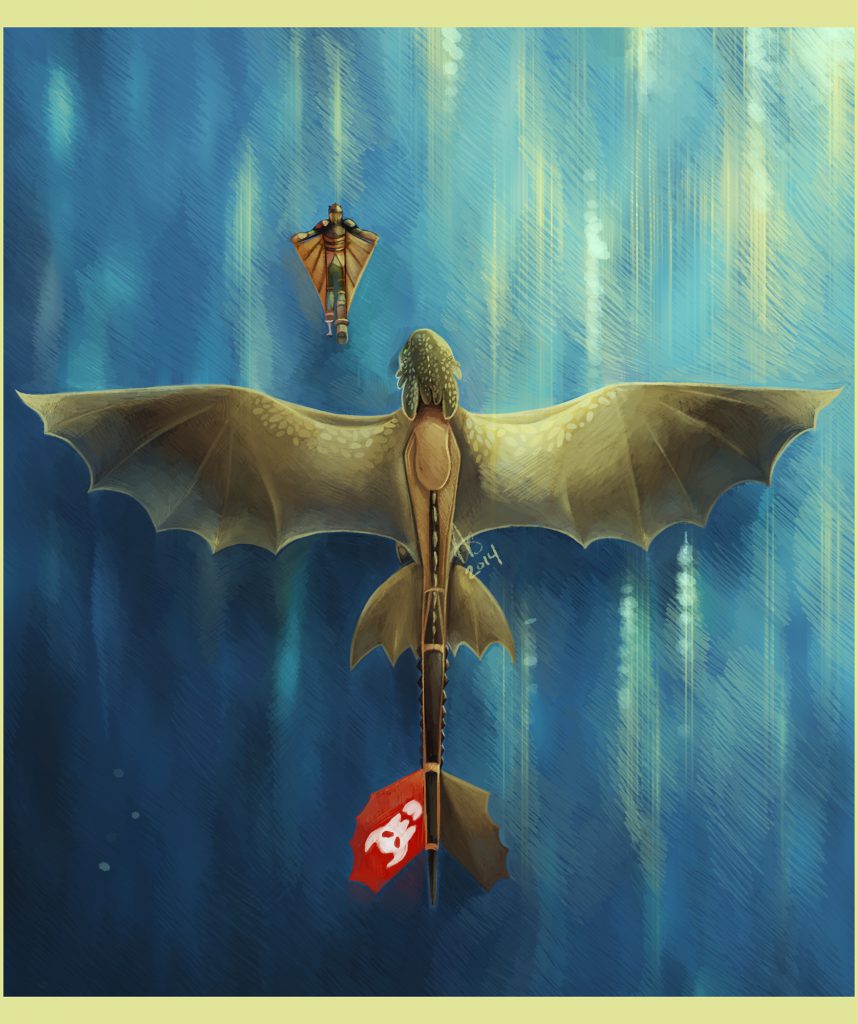 A memorable moment from the second movie, when Hiccup used his newly constructed flightsuit to glide along with Toothless through the beautiful sky above the ocean. I like seeing the impressive and powerful wingspan of Toothless in this drawing.
---
Where No One Goes – by Iya-Chen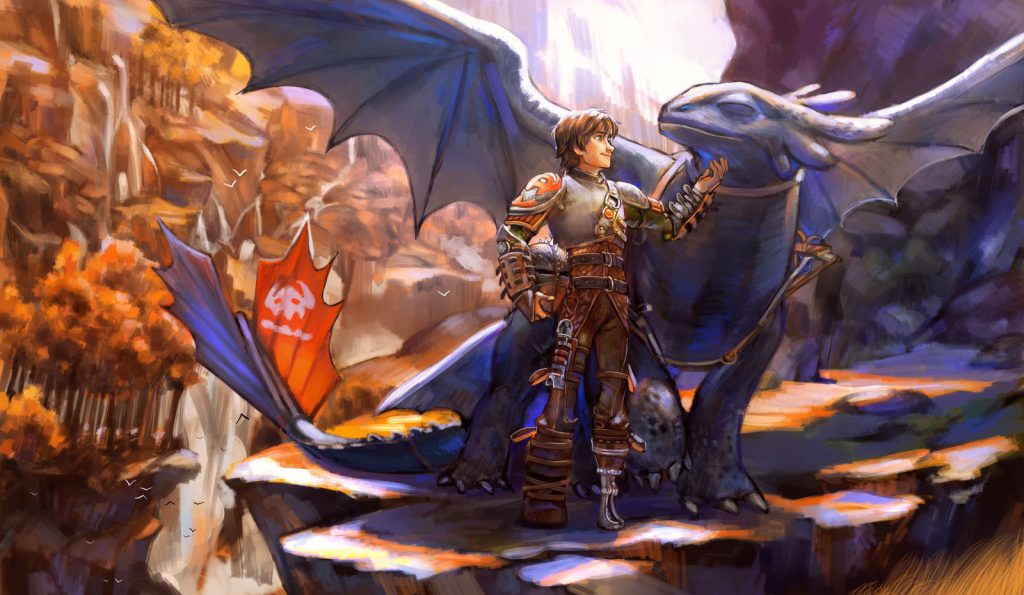 This lovely scene could very well be at "Itchy Armpit", where Hiccup and Toothless rested after gliding through the sky together, as seen in the previous drawing. Their play-fighting was so amusing – total bros!
---
That's it for this post, but I'm already working on the next one – especially funny or generally light-hearted Hiccup and Toothless fanart! If you have suggestions, would like to recommend some art or submit your own, feel free to get in touch!
In the meantime, you can also leave comments on this post below:
---
Continue Discussion
---