About the WeHaveDragons.org HTTYD Fansite
This How to Train Your Dragon fansite was made, to show what worldwide fans of the books, movies and TV series have been inspired to create, after learning of Hiccup (the Viking boy), Toothless (his best dragon friend) and their friends' adventures.
The WeHaveDragons.org blog will showcase my favourite beautiful fanart and other creative works made in the last 16 years, since the first "How to Train Your Dragon" book was published.
The community forum has a "Creative Wall" where fans and creatives can post their own HTTYD-related fanart, fanfiction and photos.
To respect the visitor's privacy and not "mess up" this website's appearance, there are no third-party ads, affiliate links or trackers such as "analytics" or "fonts" on this fansite. It's not designed to earn money for the fansite's creator, or for those who worked on the books or movie franchise.
Instead - This fansite was made to show the results of being inspired by a good story, and its often positive influence. It's an independent fansite, made by someone not associated in any way with the story's creators and tellers.
This fansite has a policy that doesn't allow themes and subjects to be shown or discussed that are any more graphic or confronting than those shown in the books, movies and TV series (which are already pretty darn violent).
Who created this fansite, and why was it made?
Short version - someone who just liked the story and a lot of its fanart, and wanted to create a "favourites" fansite for other fans to enjoy.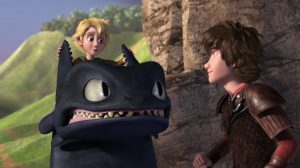 Loooong version:
I am a web developer and online producer living in Australia, who only first saw the original "How to Train Your Dragon" movie in August 2018. Being a huge dog-person and having seen almost every dog-related movie and TV show made in the last 60 years, I've completely ignored anything to do with dragons - especially after being disappointed by previous dragon movies.
It's quite clear that the friendship between people and dragons in this overall story, intentionally speaks to the friendship that people can have with their pet dogs and other animals, as well as best human friends, in real life.
By chance in August 2018, I came across an episode of "Dragons: Race to the Edge" being played on local television. The story reminded me of my own friendship with my pets, and the struggle to protect them from harm and making a nice home for them. Seeing this at times hopeless struggle played out and then won, is what caught my attention for this particular dragons story.
Ever since I was a little kid, my family and I have been taking in and looking after abandoned dogs and cats in a private capacity, for over 25 years now. There was a time we had 25 dogs at once and had to move to another state, so that we could purchase a suitable property with licensed kennels and acreage, to house them safely. A bit crazy perhaps, as this has cost us over the years well over a million dollars (excluding the property) only for the animals, and has also turned our lives upside down in (many) ways.
We probably wouldn't do it differently second time around though, as we've successfully made a positive difference in the lives of our best and true animal friends, and also learned from the experience ourselves.
While surfing the Internet to look for more information on the series, I've come across some of the most beautiful fanart (and plentiful fanfiction) of any other story. It was quite apparent, that peoples' emotions were skillfully being tapped in to, and stirred.
Even though there are many top quality fan-made resources on the Internet for the Dragons franchise, such as "wikis" and other fansites, the web-guy in me noticed a small niche: There didn't appear to be a single HTTYD-resource that discussed the creative and real-life results of having enjoyed the HTTYD story.
Indeed millions of kids around the world have enjoyed reading the original books (by Cressida Cowell), and it seems that many were inspired to better their reading, writing and social skills as a result. The HTTYD movies have inspired truly impressive fanart with real emotion invested in it. I'm sure a good portion of these artists were inspired to better their creativity and drawing skills. The quality soundtrack surely found its way into the ears of current and future musicians, and got their hearts racing.
The idea of diverting time away from work to spend many hours creating and maintaining a fansite without ever getting paid for it, still wasn't particularly exciting. After all, I had managed to find so many great creative works by fans when using search engines and visiting various websites - a single place to find everything wasn't really required.
Creating a fansite that could demonstrate the scale of the HTTYD story and just what its fans are capable of, would require an equally amazing name to fully appreciate and represent its quality content. For several days my mind drew a blank when trying to come up with something suitable, and had started to get discouraged and dismiss the fansite idea altogether. However, that all changed after realising I could call this fansite "We Have Dragons"!
It's such an iconic and epic name to add to a hoard compilation, of not only HTTYD-information, but especially fanart and other related creative goodies the "How to Train Your Dragon" fans have made available, for like-minded people around the world to see!
In this dragons story, one can witness the desperate battle for young-Viking Hiccup and his friends to learn and do everything they possibly can, to improve the lives of their best animal and human friends. In many ways, this mirrored my own and my family's struggle to improve the lives of our best friends. It was just a story, but I felt in good company watching it, and so in a way it inspired me as well.
I don't want this fansite to inspire you to go out and purchase mass-produced HTTYD stuff, that's up to you. I do however hope that you'll be just a little bit closer to picking up a book, picking up a pencil or grabbing your computer keyboard, and being just a little more creative and free than you were yesterday. That would make my efforts for this fansite more than worthwhile.
My hearty greetings to you, from your hairy site founder and owner,
Beinir (Ben) Madbear
---