The "How to Train Your Dragon" Characters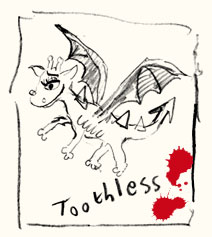 Are you interested in the characters from the movies, the characters from the original book series, or both?
The movie franchise is only loosely based on the original book series. While most characters in the original books share the names with those in the movies and TV series, their personalities and appearance have been altered, and sometimes significantly.
Perhaps the most obvious change (besides making Fishlegs about 10 times heavier), was turning Toothless from an apparently common small and green Garden Dragon in the original books, to an extremely fast, powerful and rare dragon in the movies and TV series.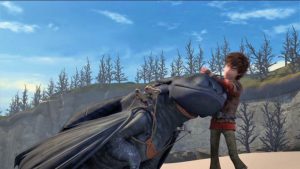 Toothless was changed from the (mostly) best but naughty friend you learn to get along with, to the supercool and fully-awesome friend almost everyone would dream of having.
Reviews of the original books often mention peoples' surprise at how different the books are to the movie they're used to, but go on to say they are glad nonetheless to have read the books as well.
Despite the major differences, Hiccup and Toothless however remain the main characters. Also, the positive theme of learning, finding solutions to problems and working together with friends is shared.
---
More information
For greater insight into the characters and their personalities, you can visit the vast HTTYD wiki pages that go into fine detail:
https://howtotrainyourdragon.fandom.com/wiki/How_to_Train_Your_Dragon_Wiki
See the HTTYD wiki there, and then you can browse the "FRANCHISE UNIVERSE" and "BOOKS UNIVERSE" menus to find more information on the characters and their differences between the books and the movies.
Hi! We're still working on expanding this page a bit. If you'd like to contribute to this page, please contact us here.
See our Planned Updates & Updates Log blog post for more details.
---
---
Sources:
https://www.amazon.com/How-Train-Your-Dragon-Paperback/dp/0316373680
https://www.cressidacowell.co.uk
https://howtotrainyourdragon.fandom.com/wiki/How_to_Train_Your_Dragon_(Franchise)
https://howtotrainyourdragon.fandom.com/wiki/How_to_Train_Your_Dragon_(series)
http://www.hiccuptheviking.com
Header image is a montage of photos of the original How to Train Your Dragon book series by Cressida Cowell, as well as official HTTYD content from DreamWorks Animation.
Drawing of Toothless from the original book series is from the HiccupTheViking.com website.
(Accessed December 2018 - January 2019)
Additional sources, and how we choose and link sources: Website Art, Graphics & Other Sources, Plus Posting & Linking Policies
Consider Basic Internet Browsing & Safety Tips, when visiting these and other websites. No links to other websites are affiliate links: advice is 100% free & independent.
---