Only a very few minutes of this final HTTYD (The Hidden World) movie, make sense in the context of the entire story up to this point, starting from the first movie in 2010.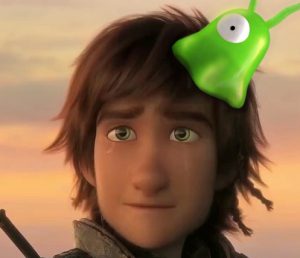 Whatever remains, appears to be dedicated towards somehow legitimising unusual personality changes to the Viking and dragon characters.
These personality changes, appeared to have been required in order to push an unusually large amount of modern-day mainstream-media-style themes that simply don't fit into a "mythical Viking and dragons story from long ago".
An entire hour of this movie, is spent watching the Dragon Riders either running away like panicked insects and leaving their ancestry, friends, lives and livelihoods behind, or farewelling their dragons.
In the real world, the toxic compromises and concessions the characters of this movie make, would mean the collapse of the society that gives in to them.

The Dragons TV series used to be officially described as the events between the first and the second movie. Unfortunately, the unusual changes in this final movie appear to be so major, that now the TV series was "supposedly" never canon (not part of the official "universe/story"), after all.
Even ignoring the TV series, doesn't help in explaining the now frequently daft and nonsensical actions made, by this movie's Berkians.